ABOUT ONLINE WRITING WORKSHOPS
We are a small company whose mission is to provide aspiring writers in many genres with a way to improve their writing through the comments and suggestions of other writers. To do this, we provide online writing workshops directly to the public and also to organizations who want to offer them to their members. Our services range from providing turnkey workshop solutions hosted on our server, to software license agreements of various sorts, to consulting.

We are not a big faceless company out to milk your wallet for all we can get. Just to prove it, here are our faces: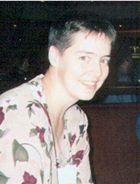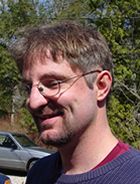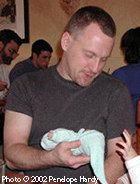 We all spend about half our work time on the workshop, half on other projects, and hire freelance help as it's needed.

Who we are:

Ellen Key Harris-Braun was for many years an editor at Del Rey Books, where she began the Del Rey Internet Newsletter in early 1993 and the Del Rey and Random House Web sites in 1994. She served on Random House's first Internet Committee and tutored the CEO in the pre-Web Internet. For the next five years, she helped run and expand Books@Random, the Random House Web site and online catalog, while also producing all content for the Del Rey and Ballantine Publishing Group Web sites. (Del Rey is an imprint of Ballantine, which is a division of Random House.) She also edited various SF authors, including Nebula-award winning author Nicola Griffith (Ammonite, Slow River). Then she developed, produced, and managed the Del Rey Online Writing Workshop, which began in the fall of 1998. After leaving Del Rey and Random House in mid-1999, she began a new career as a Web-development consultant.

Eric Harris-Braun is the author of both editions of The Internet Directory, one of the first books to map the Internet's contents. He is the co-founder of Glass Bead Software, makers of SnapMail, an e-mail and messaging system for Macintosh networks. He is also a consultant specializing in the software that runs interactive Web sites, with clients including Random House and Mascot Network. He was the programmer for the original Del Rey Online Writing Workshop, and is responsible for the initial brainstorm that led to the idea in the first place.

Charles Coleman Finlay (http://www.ccfinlay.com) provides help-desk and technical support, development input, and marketing research for Online Writing Workshops. He was a member of the original Del Rey Writing Workshop and a beta-tester of the first OWW workshops. He's become a frequent contributor to The Magazine of Fantasy & Science Fiction (http://www.fsfmag.com), and his stories have been reprinted in The Year's Best Science Fiction, The Year's Fantasy, and The Mammoth Book of Best New Horror, as well as being finalists for the Hugo, Nebula, and Sidewise Awards. In 2003, he was the runner-up for the John W. Campbell Award for Best New Writer. He is the author of The Prodigal Troll a novel, and Wild Things, a collection of short fiction.